Community Wellness Program Returns to Greenfield
In Person Exercise Program Starts January 12, 2022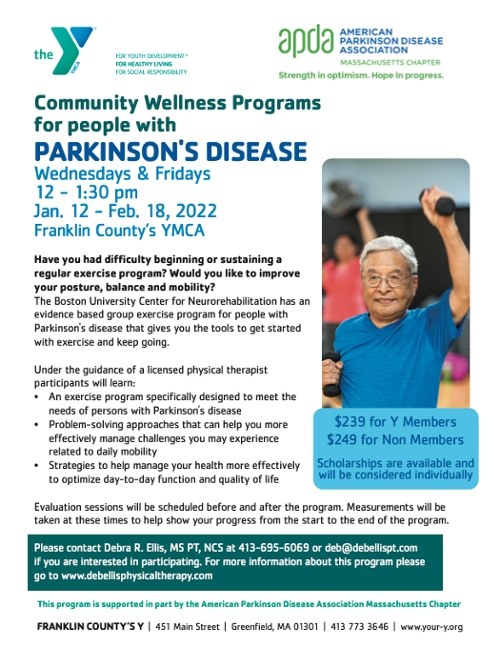 Time to recommit to your wellness in 2022!! I am eager to see you all in person!
The Franklin County YMCA (formerly Greenfield YMCA) will be hosting this small group program for people with Parkinson Disease. Participants will learn the latest evidence based exercise practice recommendations for improiving functional mobility and delaying disease progression.
This program is designed to support people with Parkinsons as they develop or improve on their current exercise regimen. This small group structure (12-15 participants and 4 assistants) provides individual support as participants master the program and gain confidence and knowledge. New participants as well as repeat participants will enjoy active balance and agility programming and multi task training along with strengthening, flexibility, endurance and gait training. We also review problem solving strategies for current functional mobility challenges.
We will be holding class in a large open space and all participants will need to wear masks during the program. Please contact Deb Ellis, PT with any questions and to register for this 6 week program. deb@debellispt.com or 413-695-6069. The American Parkinson Disease Association -Massachusetts Chapter has made scholarship support available for those who need assistance. Please discuss this with Deb directly.
Posted: to Parkinson's Exercise News on Wed, Dec 8, 2021
Updated: Thu, Dec 9, 2021