6 Week Exercise Program -Franklin County YMCA- Greenfield
Program starts January 25!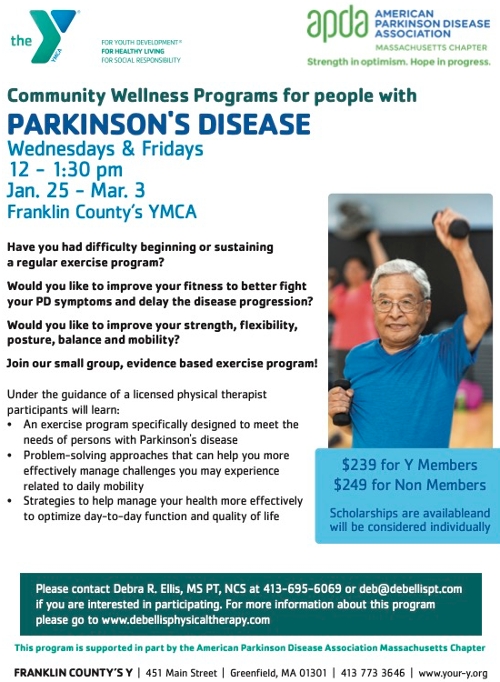 Happy New Year!!
Kick off 2023 with me!!
The small group 6 week, 2x/week Community Wellness Program will begin on January 25 at the Franklin County YMCA. This program will meet each participant where they are with regards to their fitness abilities.
You will;
Learn and master a PD focused exercise program in a small group setting
Improve your strength, balance, posture and flexibility,
Improve your fitness
Understand how to best manage your symptoms
Be provided valuable Parkinsons community resources
There are still a few slots open. Please contact me to register or for more detailed information..
Deb@debellispt.com 413-695-6069
See you in Greenfield!!
Deb
There are scholarships available thanks to the American Parkinsons Disease Association -Massachusetts Chapter.
Information avaialble on request
Posted: to General News on Sun, Jan 1, 2023
Updated: Sun, Jan 1, 2023